Testimonials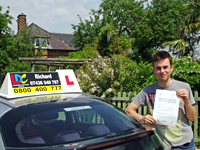 Louis
Passed with only 3 minor faults
I've enjoyed learning to drive with Richard, he was very calm and equally focused on ensuring I was making progress while learning. The LD system he uses was very effective for me, it gave me something to aim for every week where we'd plan what I should aim to learn in the lesson. We would then have time at the end of the lesson to evaluate how I'd done and where I could improve. It worked a treat, and it meant I learned how to drive quicker than I expected. When I made mistakes, he'd dedicate time to it until I was comfortable with my ability. Overall, his positive, patient and flexible approach to learning is the main reason I passed my test, and I'd recommend Richard without a second thought.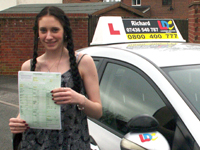 Georgia
Passed first time - one week course
I really enjoyed having Richard as my driving instructor as he was professional yet friendly and most importantly patient! He effectively planned each lesson that were tailored to my current skills and challenged me to be able to complete set goals in the LDC book. He was great at recognising when I was finding some activities too difficult/easy and adapted them so that I didn't become bored/too stressed. He was flexible with his lessons, and I truly felt like he wanted me to succeed which was shown through his encouragement for me to keep persevering. Richard helped me greatly in being able to pass my practical driving test first time and I don't think I would have been able to do it without his support. I definitely recommend booking driving lessons with Richard as your instructor.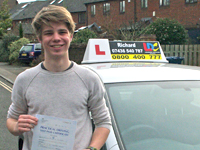 Finn
Passed 1st time
Richard has been an excellent instructor - from the very outset, he has been encouraging, kind and patient. He has been incredibly flexible in making time for lessons, and his calm and pragmatic instructing style put me in control for the majority of lesson time - and I would attribute this greater independence to me passing in just over 20 hours of instruction. As a semi-independent instructor, Richard's lessons work very well in that he can provide a clear structure of lessons in line with LDC teaching, but is flexible to move beyond this when needed. This was really beneficial as my confidence grew and my issues became more specific. Richard also talked through everything in depth before I attempted it - and having a thorough debrief at the end of the lesson was a highlight feature of his lessons. Overall, there is no instructor I would rather have learnt with - Richard has been absolutely perfect for me - and I am glad I jumped on the bandwagon early!
Call today on 07436 540 787 or Email me to find out more
If you have any questions or to book lessons today, feel free to contact me